Study a language online with a world-class teacher, no matter where you are
Langu connects you with a private language teacher for one-to-one lessons. It allows you to find teachers with better pricing, experience and specialities than you're likely to find in your hometown. And you don't even need to leave the house!
Find a teacher
Look through the profiles of our teachers. Read about their experience, background and teaching methods. Choose one or more who specialise in what you need to learn. To help you make your choice, send messages to as many as you like. Remember, all lessons are individual so you won't need to share your teacher with anyone!
Take a trial lesson
Sign up for a trial lesson (most are free). Use that time to tell your teacher about your needs and goals. Do you want to focus primarily on conversation? What topics would you like to discuss? The teacher will assess your level and discuss the learning plan with you, including the materials you will use during your classes. You'll connect in our virtual classroom right here on Langu - it's like Skype, but it's better for language-learning and no additional software is needed.
Set your schedule
Decide how often and for how long you want to study. Purchase the package of lessons that makes the most sense for you. You can schedule all the lessons at once, or buy a package and schedule some of them later on. Not sure? Have questions? Get in touch! Send us an email at support@heylangu.com or use the pink chat icon at the bottom right of your screen.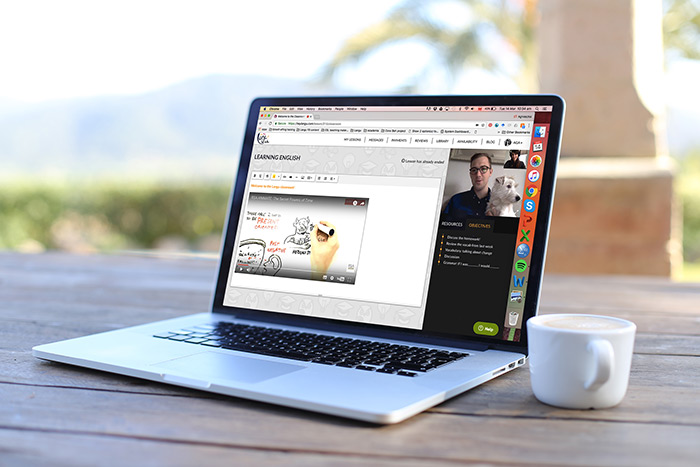 our teaching
philosophy
We believe in the power of real conversation and the effectiveness of a real teacher who adapts to your needs. There's no one-size-fits-all approach, because everyone learns differently: some people work best through casual conversation, while others require strict grammar rules and verb tables in order to successfully acquire the language. Some people work better in the morning, and some in the evening. Some get motivated by regimented teachers who give lots of homework, while others just want structured, interesting conversation at their own level.

And students have different learning goals: some want to learn a language perfectly, others just enough to pass a test, and others for casual small talk at work.

Our approach brings together the best technology and human teaching. It's more effective than a mobile app, and more convenient than a language school. So there are no more excuses – let's get started!